Hello & Welcome -
How can Post Mags Websites & Marketing Solutions help you reach your sales & marketing goals?
Professional Website Design & Promotion
Take the worry out of the web! We handle all aspects of creating a professional web presence for your dealership. From registering your website domain name to website design, maintenance, & promotion - we'll take care of it! With our bi-weekly update plan, you can leave your changes to us to do for you, or upload & change your inventory yourself anytime 24/7.
Inventory Management System
Feature all your vehicles online with our easy-to-use Inventory Management System. Each item has a detailed item listing page & can include up to 9 photos. In addition to having your inventory featured on your website, it will also be included in the Truck And Equipment Post's Online Classifieds which reaches thousands of buyers monthly!
Website Portfolio - Check Out Examples of Active Sites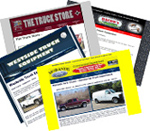 Post Mags Websites & Marketing Solutions include attractive websites tailored to your business needs as well as the necessary design components & promotion to reach more online searchers. "Build it & they will come" does not apply to websites. Our websites are designed with search engine optimization techniques, & promoted just like you would promote your physical storefront. Check out our Website Portfolio of active websites.
Contact Post Mags Websites & Marketing for More Info.
For more info on a web site & marketing packages for your business, please call Post Mags at 888-887-0505 or email us at: ads@TruckAndEquipmentPost.com.